In the world of NFTs, there are a lot of things to meme about. From the absurd prices to the quirky designs, there's plenty of material for a good laugh. Here are some of the best NFT memes of all time!
NFT community is based on art and internet culture, from weird preachers of non-fungible-tokens to enthusiastic scam artists in the space promoting useless crypto courses. There will always be something to meme about. Let's dive in our NFT meme collection.
Kevin "Worst NFT project ever" Pixelmon meme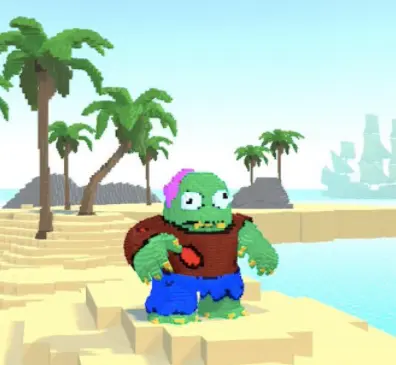 Good old Kevin, forever in our hearts. At the reveal event for Pixelmon, an ambitious project that raised over $70 million through a Dutch auction of unrevealed NFTs, we were introduced to the now iconic NFT meme Kevin. Named after its 'species' trait, he quickly became a beloved symbol in our hearts.
The team apparently fast-tracked the reveal even though the art wasn't fully ready, giving us Kevin (the name Kevin is the name of the NFT's "species" trait). "I'm not going to sugar coat it — we made a horrible mistake," Creator of Pixelmon, Syber, wrote on Discord. "This is unacceptable. We felt pressured to push reveal, and the reality is we weren't ready to push the art work. This does not represent the brand, and we will fix this as we have let many people down with this reveal."
The popular Pixelon game has been completely reinvented, with the team investing an impressive $2 million to update the artwork and visuals. In this open world RPG, players have the opportunity to collect, train, and battle their Pixelons. Amongst gamers and fans of the original Kevin character, Kevin's popularity has not diminished over time – he became a living NFT meme.
Nyan cat NFT meme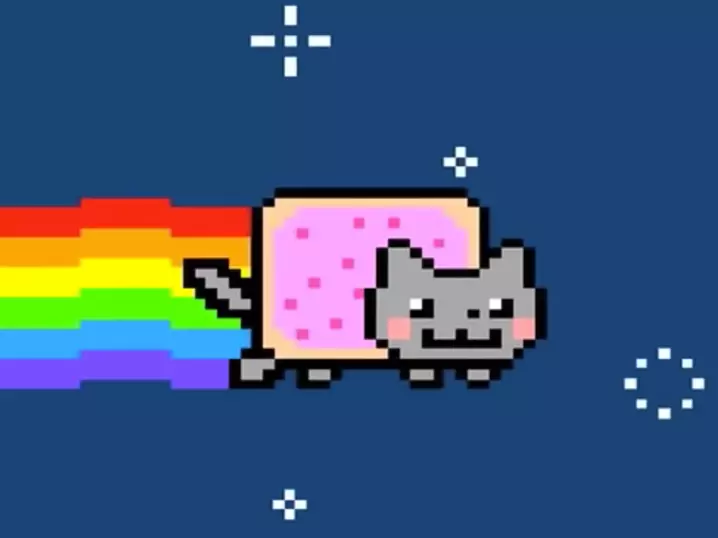 One of Good old classic memes on the internet sold for 600 000 USD. Good old viral video of nyan cat and its legacy lives forever.
Vitalik Boner
Vitalik boner holds the power of all mighty Ethereum… We can not deny that…
Crypto tax meme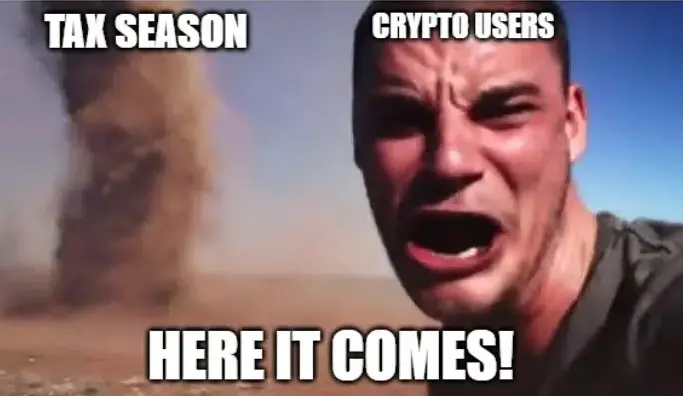 Here it is again… The tax season. As this tax NFT meme shows, we are once again getting our profits cut and left with leftovers. Hopefully the profits that we cut from this year is big enough to keep us going.
NFT is suspended by Twitter
Twitter suspended NFT ! No the whole NFT community or ecosystem, rather just the @NFT twitter account run by Jason Falovitch and Mark Cuban. Their account was locked in February 2022. "This account was disabled following repeated violations of our policies, and it won't be reinstated," a spokesperson for Meta, Instagram's parent company, told Rolling Stone.
Account was accused of promoting shadowy NFT projects without any disclosures, which led to @NFT getting "suspended".
NFT is the future memes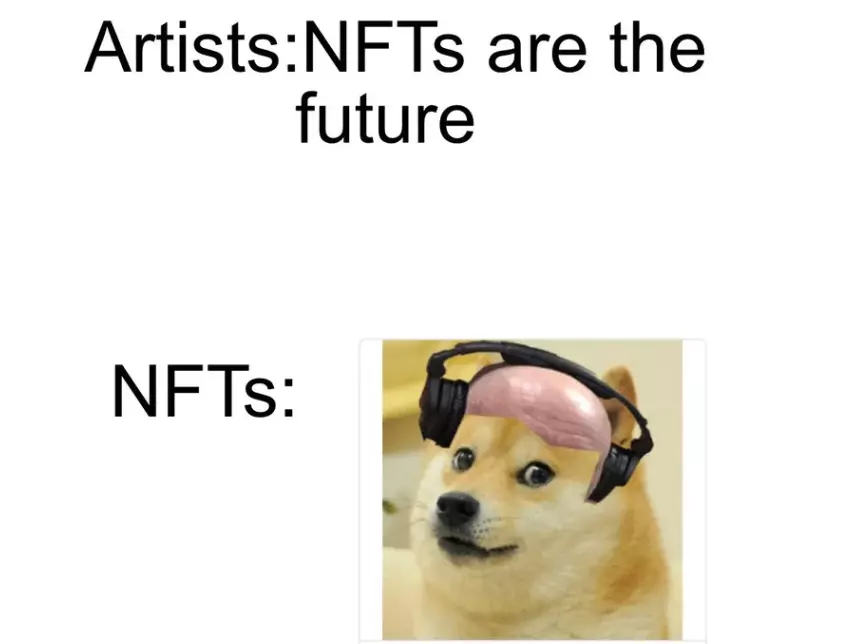 NFTs are the fu tu re ! Listen, to your credit maybe they will be the future one day. But at the current day most NFTs are just pictures of famous memes that kids try to sell on internet. That's the current nature of it. I wonder when this will change.. Maybe next March or April?
Disaster girl NFT meme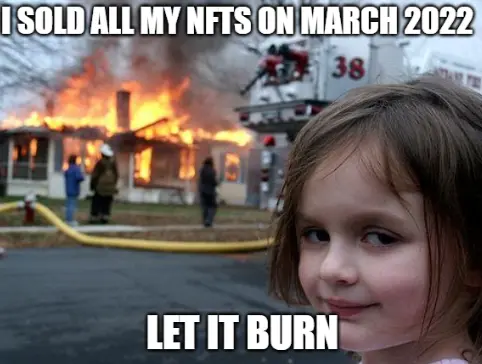 Disaster girl NFT meme is on of our favorite among other funny NFT memes. NFT and crypto markets peaked at around 2022 march and everyone who sold their crypto and NFTs made great profit. The disaster girl clearly did and now she isn't bothered about future of her portfolio at all.
Larva Labs pokemon NFT meme

In February 2022, LarvaLabs, the team behind CryptoPunks, encountered a significant degree of criticism after they presented a meme inspired by the Pokemon franchise. This led to one of the firm's co-founders, John Watkinson, offloading his holdings of V1 CryptoPunks NFTs.
After Watkinson had sold the V1 Punks NFTs, Larva Labs sought to take action in order to put a stop to the project and wipe it out of existence on any NFT marketplaces. This not only posed a threat to the progression of the project itself, but also stood to cause serious financial damage to anyone who purchased the NFTs from Watkinson.
Watkinson kept all the money from the sales and experienced no losses.
Overly attached girlfriend meme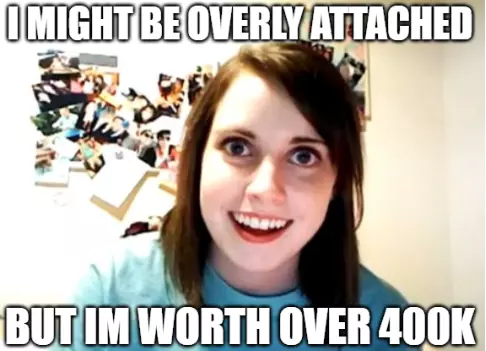 Overly attached girlfriend is not fun for anyone, to her credit though, meme was sold for 411 000 USD. Next time consider love thing, sometimes it pays off, folks.
Couple relationship became a joke, at least we have this great art.
NFT Roadmap meme
Prior to investing in an NFT venture, it is absolutely essential to conduct a thorough investigation into the project itself, its creators and their long-term vision. It is important to take the time to fully research the project and gain a complete understanding of what it entails.
Most often than not, Projects promises their NFT community "the sky" while reality is very far off. There are plenty of examples including our beloved Kevin, who's company Pixelmon raised over 70 millions and delivered to us this living NFT meme – Kevin
Ethereum gas fees memes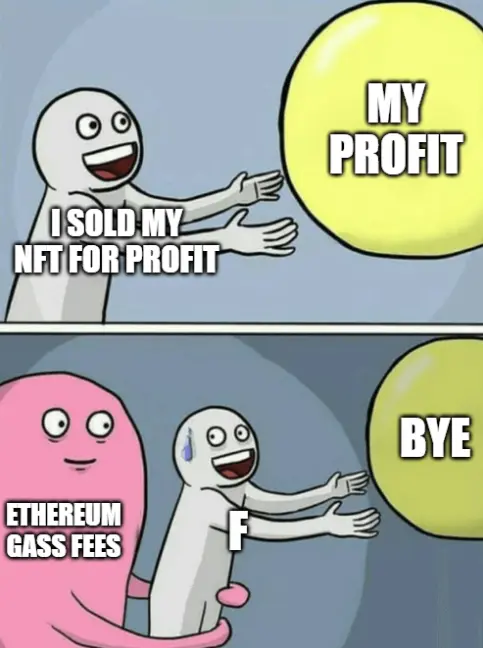 I finally managed to monetize my NFT collection and made some profit. Not so fast – the famous Ethereum gas fees are here to take their cut.
At the moment of writing Ethereum fees hover around 20 USD. This can really hurt your profit margins when trading NFTs based on Ethereum blockchain. An alternative to avoid these harsh fees would be to trade NFTs on alternative blockchains.
Success kid mint NFT meme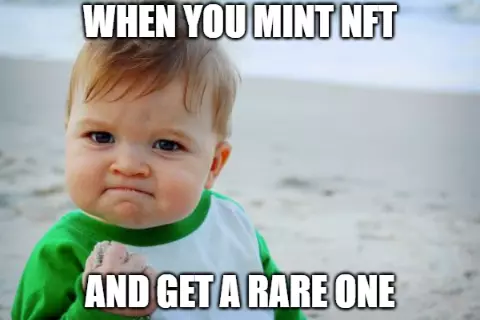 Success kid or fist pumping toddler (whichever name you prefer) is striking success once again. One of the most notable NFT trait is that they have variety of rarities, and the ones that are considered rarer than others hold more monetary value.
Success kid decided to put his money in one of the new ape collections mints, and boom success – he minted a rare NFT. Hopefully same happens to you !
Screenshot NFT meme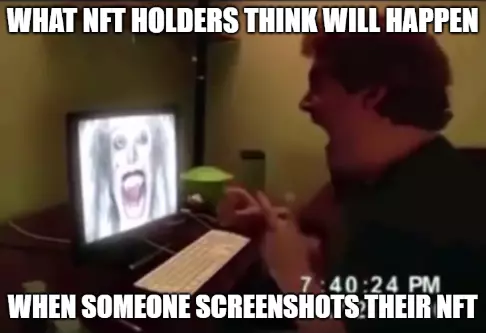 One of the most popular NFT meme concepts in the NFT space. The idea that NFTs are copyrighted are great, yet far from becoming a reality. Imagine how would you need to explain to your grandma that you own some kind of picture and that person screenshotting it is committing a crime.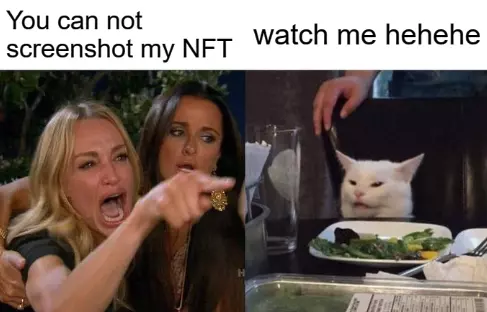 NFT collectors be like
One day son, this collection will be yours. But that this is just a room with ugly pictures.. Son they are not ugly and worth a lot of funds. This NFT meme shows what an important role perspective plays in our lives. As are living and learning perspectives change, trends change, but the glory of NFT memes collection remains the same.
When you make all your friends invest in great NFT project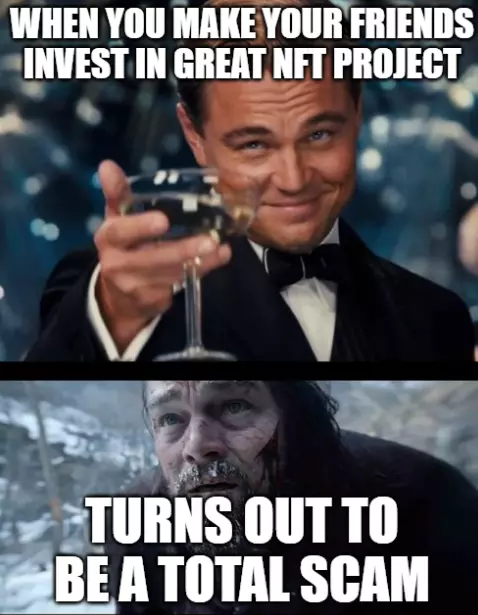 Turns out to be a scam. I will try to convince them again with metaverse…
Shiba inu NFT memes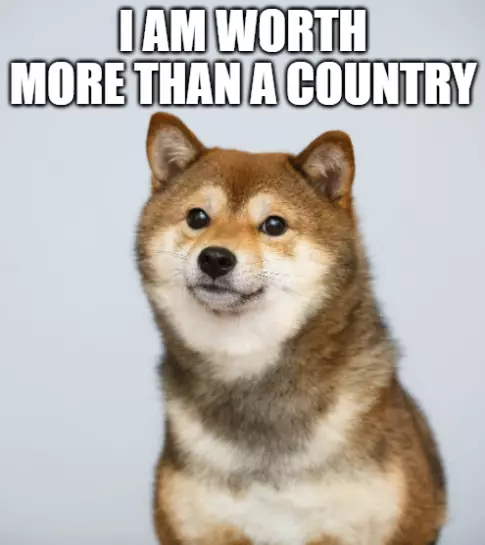 When you (as shiba inu) and your brother dogecoin are worth more than some small countries GDKP combined.
Metaverse memes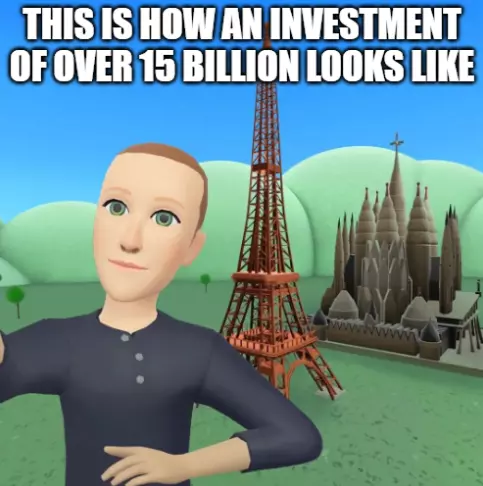 This is one of those memes that we can already consider classic memes.
Meta CEO Mark Zuckerberg invested over 15 billion dollars to develop the metaverse. This was the big reveal. Character graphics looks dope folks, no joke.
NFT trading is a real job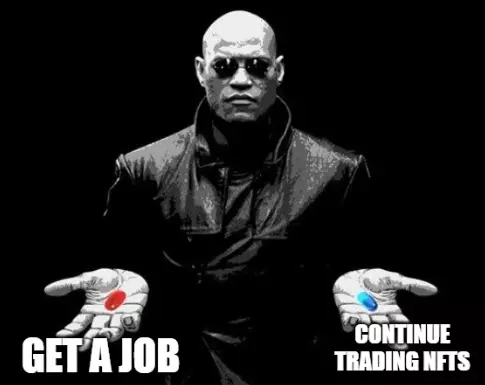 Don't point your finger at me, great things are happening. NFT bear market will soon be over, April will come back and I will be making great money on the internet once again.
I am an art trader, what happened long ago will happen again.
NFT is all about art (joke)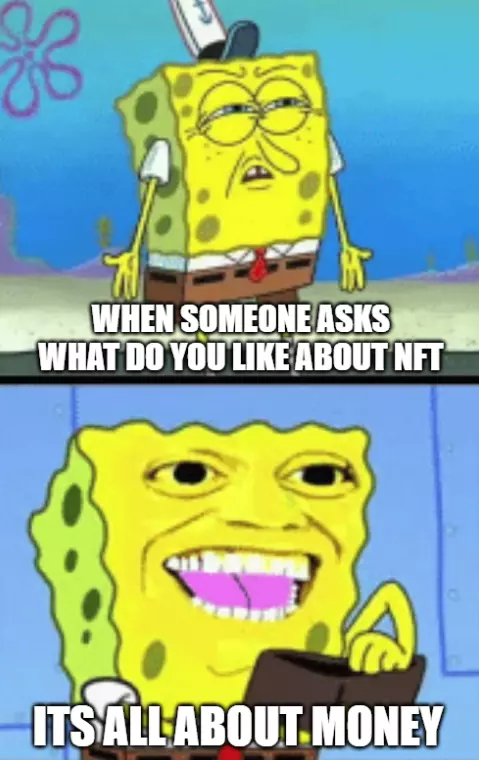 NFT is all about moneyyy, there are plenty of memes how folks claim that they are here for art. We have all heard phrase "I am here for technology" or "I am here for the art" Well we can point our finger laughing at them and tell them that they are memes.
But for real, money making aspect of the NFTs are the main factor and motivation for their success. NFTs thing used to create wealth quick. Many people made their buck in this market.
Will it happen again next June or will we never witness anything like we did again in our life?
Explaining NFTs at Thanksigiving dinner
Memes like this reminds me of holidays. When you are explaining to one of your uncles what NFT is and why have you minted some rare ape yesterday.
You end up showing him a video and he is just sitting there watching that video and thinking what wrong has he done with his life.
Fortunately for him Youtube clip ends he says that he understood everything and my business here is over.
Scumbag Steve – I told you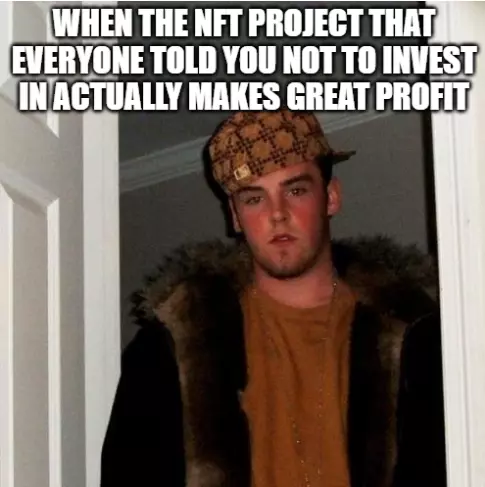 Scumbag Steve invested in some shady project after watching video on Youtube about it. "You think it's bad? No it is not bad, get your priorities straight. You miss 100% of the shots that you don't take" – Scumbag Steve