NFT marketplaces have been gaining a lot of popularity lately. Unfortunately most of them are based on ETH blockchain and have very high transaction fees. We have a solution – Cardano NFT marketplace. Cardano NFT marketplaces have low transaction fees and will not eat your profits. But let's begin from the start.
Cardano is a cryptocurrency that was created in 2015. Cardano is one of the most advanced blockchain networks in existence and is revolutionizing the way cryptocurrencies are used in everyday life.
Cardano is a public blockchain and cryptocurrency platform that focuses on delivering secure, reliable, and fast transactions at low fees. Cardano's low transaction fees are enabled by its advanced cryptographic architecture and "Ouroboros" protocol which allow the Cardano network to process payments more quickly and efficiently than other blockchains.
Cardano also uses a mechanism called "proof of stake" (POS) to verify transactions; this makes Cardano much more efficient than other public platforms that require mining operations to authenticate each transaction. In addition, Cardano uses various layered layers of scalability mechanisms, allowing it to handle much larger payment volumes without increasing congestion or fees. These features combined make Cardano one of the most cost-effective cryptocurrencies currently available.
NFT marketplaces have been gaining a lot of popularity lately. We figured out what is Cardano and why it has very low transaction fees, now we are ready to take a look at TOP Cardano NFT marketplaces.
1. JPG STORE – Best Cardano NFT Marketplace
JPG Store is an exciting Cardano NFT marketplace that brings together creators, buyers, and enthusiasts from all around the world. With a wide selection of Cardano branded non-fungible tokens, users can find artworks and more.
This Cardano NFT marketplace allows users to buy, sell and create NFTs. It is very easy to manage Cardano NFTs with JPG Store's built-in Cardano wallet.
JPG Store is creator friendly Cardano NFT marketplace and when you are creating a NFT you can choose a percentage of royalties that you will receive when your NFT will be traded.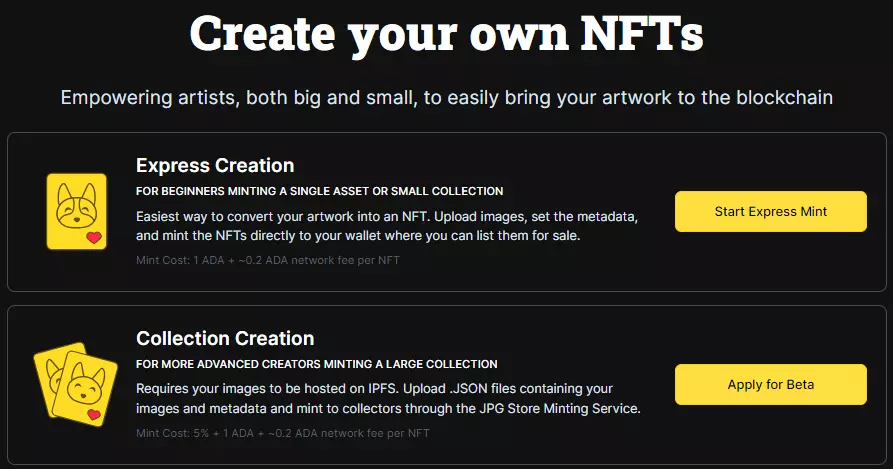 The site's user interface is intuitive and beginner-friendly, making it simple for anyone to get up to speed quickly. The wide range of Cardano-based NFTs makes it especially appealing to anyone looking for unique digital artwork.
Furthermore, engaging tech features such as smart contracts allow NFT owners to reap rewards on their creations in the form of added value. As an added bonus, JPG Store also provides a secure authentication system so buyers can be sure they're buying authentic works.
Despite these attractive benefits however there are some downsides; transfers may take a while due to slow blockchain confirmations and high transaction fees are sometimes charged. Despite these drawbacks though, those interested in Cardano NFTs will certainly enjoy the flexibility and ease offered by JPG Store. All in all JPG Store offers users an efficient way to purchase one-of-a-kind digital items backed by safe and reliable blockchain technology.
JPG Store at the time of writing paid over 16.2 million ADA (Cardano) in royalties, has over 367 million trading volume and almost reached 240 thousand unique wallets.

If you are a NFT creator, you can create your NFT at JPG store. For each NFT minted, you will pay 1 ADA and a network fee of 0.2 ADA.
JPG Store charges you 2% on NFT sales.
To trade or manage your NFTs you must connect a crypto wallet. On JPG store you can use such Cardano wallets as Nami, Eternl, Flint, Gero, and Typhon and NuFi.
CNFT Cardano NFT marketplace is one of the most popular online platforms for buying and selling Cardano NFTs. The Cardano NFT marketplace has been created in 2021. It was designed to make it easy for users to buy and sell Cardano-based NFTs, with a wide variety of features that assist us in finding the right Cardano NFT or collection.
Some unique features include advanced analytics tools, an all-in-one view of Cardano NFTs, exclusive collections and direct offers from leading Cardano wallets. These features allow users to browse quickly, explore various options and hone in on Cardano tokens that are best suited for their purchase.
What makes CNFT marketplace different from some others Cardano NFT marketplaces is that it allows users to choose from separate categories, which are art, music, collectibles, photography gaming, and the metaverse.
This NFT market takes security to next level, it marks NFTs that are verified. There is an option to filter out unverified NFTs.
Additionally, CNFT Cardano's payment system allows customers to conduct transactions securely with full privacy protocol. It also provides notifications for new listings and interesting trends in the market.
This NFT marketplace charges 2.5% commission for each NFT sale.
Supported wallets: Nami, Eternal, Flint, Gero, and Typhon
AdaNFT is which allows you to buy and sell NFTs in very simple steps. How AdaNFT is different from other top Cardano NFT marketplaces is that community is involved in major decision making. Voting system is implied to create great quality NFTs.
To be able to purchase NFT, you will need to sign up and create a free account on the platform and then connect your Cardano wallet.
Fees are applied each time you buy, sell or transfer NFT to another user. Fees depend on virtual asset value. User also pays transaction fee.
Supported wallets: Nami.
Cardahub NFT marketplace was founded in 2021 and built on Cardano blockchain. It is a creator friendly NFT marketplace, allowing creators specify what royalties buyer will have to pay.
Plutus smart contracts are used on Cardahub, which allow anyone to buy and sell NFTs.
A great creator friendly feature on the website is when you mint an NFT you manually select the desired royalty fee.
NFT marketplace calculates selling fees based on NFT value. Cardahub between other Cardano NFT marketplaces offers the cheapest minting fee of 0.4 ADA.
Supported wallets: Nami, Gero wallet, Eternl, Flint wallet.
Tokhun is a relatively new Cardano NFT marketplace which has already made waves in the crypto art community for its innovative approach to purchasing digital artwork.
Unlike some of the large auction houses, Tokhun does not require users to submit bids or place funds in escrow. Instead, buyers use the platform's own native token—the TKN—to purchase works directly from artists. This ensures that both buyers and sellers are protected during the transaction and that everyone gets fair value for their money.
The website has a user-friendly interface that makes it easy to browse through the many artworks available on the platform.
Tokhun applies 2% or 2ADA commission when you sell your NFTs. Minting fee is 2ADA and reduces if you mint more NFTs.
Supported Cardano wallets: Nami Wallet and Flint Wallet.
The Galaxy of Art is a Cardano-based NFT marketplace that allows you to explore an ever-expanding universe of digital art. Since its built on the Cardano blockchain, all transactions are encrypted and secure.
Among other NFT marketplaces GOA takes a step further in security by providing users a 2-FA to ensure their NFTs are safe.
GOA allows you to mint NFTs without any fees, but you have to pay a small transaction fee. Once you have some NFTs, the GOA wallet freezes 1.7 ADA per NFT, this is to ensure smoother transaction between buyer and seller parties.
Supported wallets – GOA supports only it's own native wallet, which you can access after you sign up.
If you've yet to check it out, don't hesitate to take a look– this NFT market is light years ahead of anything else out there!
The Artano Cardano NFT Marketplace is an online platform for buying, selling, and trading non-fungible tokens (NFTs). It offers a wide selection of digital artworks and collectibles, as well as providing a secure and intuitive interface to explore the world of NFTs.
It features a clean, modern design that makes it easy to browse artworks in both list and grid view. Furthermore, the site proudly follows industry-leading security protocols to protect users' data and funds.
The account management experience is also simple and efficient, allowing users to manage their collections with ease.
Artano is fast, secure and convenient—everything you could want from an NFT marketplace!
To buy , sell or mint NFTs you need to create a free account on the platform.
Artano charges 5% and then 2.5% commission fees on your first and second sale of NFTs. To add, you need to pay a 10% fee for the sale of NFTs at an auction.
Supported wallets : Nami, CCVault, Flint, Gero, Yoroi, or Daedalus.
This marketplace platform is well used for its advanced user interface with multiple filters.
A feature that is rarely seen among other NFT marketplaces is that you can sell multiple NFTs at once.
All things considered, NFT Jam is leading the charge into the digital art revolution and is definitely worth checking out if you're looking for a platform where you can showcase your investment or creative skills safely and securely.
Trading NFTs under 20 ADA are free of charge. On the other hand NFT transactions that are over 20 ADA are charged 2.5% commission or 1 ADA, depending which is higher.
To trade on NFT Jam you will need to create a free account and connect your Cardano wallet.
Supported wallets: Nami, Daedalus, and Yoroi.
Cardingo is one of the emerging NFT marketplaces. It is built on Cardano blockchain.
Marketplace is designed to make the buying and selling of digital collectibles easier than ever before. It combines blockchain with artificial intelligence to ensure a secure platform that safeguards investments.
Above all else however, Cardingo makes sure that its users remain in control. It's intuitive interface allows traders access rights to customize their experience when it comes to trading as well as ensuring complete safety and privacy at all times.
Supported wallets: Nami, Yoroi, or Daedalus.
The Art Suite used to be called NFThubs. It is another marketplace on Cardano blockchain, one of its main features is to filter NFTs by different genres.
Genres: digital art, music, tattoo art, film, animation, illustration, and paintings.
Great feature of Art Suite is that it doesn't ask you to sign up, all you need to do is connect your Cardano wallet and you can sell NFTs.
Supported wallets: Yoroi, Typhon, CardWallet, CCwallet, Nami, Gero, or Flint.
Conclusion
The Cardano NFT concept offers both low gas fees and security while doing away with many of the technical complexities that have been associated with other blockchains.
There are plenty of NFT platforms on Cardano ecosystem. Some of them offer great features for minting highly customizable NFT.
Some of them offer easy step by step NFT buying and selling solution.
Some of these marketplaces on Cardano ecosystem have a great community to back them up.
There is a marketplace for everyone, do not forget to use safety precautions and you will find some place perfect for you.