If you're an avid NFT collector, then you're probably always on the lookout for new and exciting pieces to add to your collection. And what could be more intriguing than an NFT mystery box?
With an NFT mystery box, you never know what you're going to get. It could be a work of art, a digital collectible, or even a piece of virtual real estate. But whatever it is, it's sure to be a unique addition to your growing NFT collection.
So if you're ready to take a chance on something new, then check out our latest batch of NFT mystery boxes! You might just find your new favorite piece of digital property inside, who knows what NFT market has to offer.
What is an NFT mystery box ?
NFT Mystery Boxes are becoming a popular new trend for NFT enthusiasts. NFT mystery boxes are digital "loot crates" alternatively known as "blind box" that hold a unique NFT or few of them.
What is in an NFT mystery box?
NFT mystery boxes are similar to physical mystery boxes, except they contain NFTs rather than physical items.
The NFT artists or creators provide an array of one-of-a-kind NFT tokens held within the mystery box such as limited art pieces, music files and random collectibles — with the highest-valued NFTs located in rarer editions of the box.
Loot boxes work like this – the contents of each box are stored as an NFT on the blockchain, when you purchase a NFT mystery box essentially you are purchasing an NFT that holds NFT in it.
The benefits of buying an NFT mystery box
NFT mystery boxes are a great way to get your hands on some fantastic digital NFTs without breaking the bank as in most cases these NFT boxes are cheaper rather if you would buy other NFT individually.
These boxes usually contain a selection of very common NFTs and some valuable NFTs.
They can be purchased for as little as a few dollars, giving you access to rare NFTs which may be worth more in time. Some of these boxes contain super rare asset and can result in huge profit. NFT mystery boxes are an ideal way for consumers looking to get involved in the NFT space but don't want to spend large sums of money, or those simply seeking an exciting surprise.
NFT mystery box have a benefit comparison to physical mystery box. As you can verify the authenticity of NFTs inside, because all of the contents are stored on the blockchain, and with the real life version counterfeits are a real risk.
The risks involved with buying an NFT mystery box
Purchasing an NFT mystery box can be quite exciting and rewarding, but it is often close to impossible to know exactly what you will be getting until you make the purchase.
This lack of knowledge brings its own set of risks, as you may be disappointed with the contents if they are not what was expected or desired.
Furthermore, some NFT mystery boxes can contain very common NFT items worth significantly less than the cost of the box itself, resulting in an overall lost money for the buyer rather than a profit.
It is important to conduct proper research before deciding on an NFT mystery box, ensuring that it contains items with a sufficient monetary value and that have personal meaning to you before making a commitment. In most cases buying these mystery boxes is a huge gamble although some times you can get unique random NFT.
Where to find NFT mystery boxes?
You can find NFT mystery boxes on NFT marketplaces. Most popular NFT marketplaces with huge NFT trading volume are Binance NFT marketplace, OpenSea, Rarible, Crypto.com and so on.
Binance NFT marketplace is great choice for anyone looking for NFT mystery boxes. It has a variety of mystery boxes for sale including their own boxes. Additionally Binance NFT mystery boxes provide you with information of what is the likely hood of receiving valuable NFT.
Currently cheapest mystery NFT box on Rarible NFT platforms is Mystery Sneaker Box for as little as ~0.001 ETH, which at the time of writing is ~1.23 USD.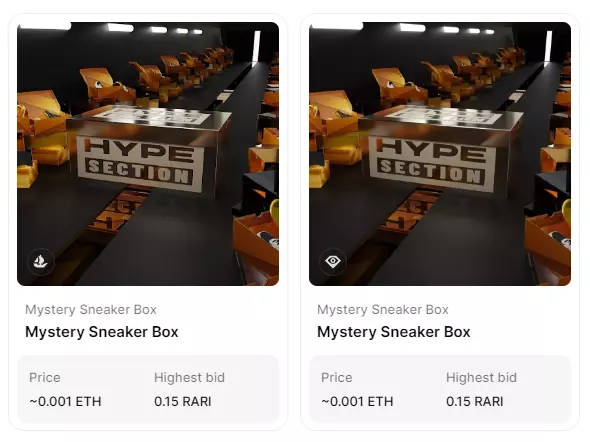 NFT mystery boxes – Honorable mentions
CR7 Mystery Box Collection
The CR7 Mystery Box Collection comprises 1.5 million mystery boxes reserved exclusively for new Binance users. Each box is generated randomly and contains one of two mystery box-exclusive Ronaldo NFTs.
You can find CR7 Mystery boxes on Binance. They are very cheap with floor price being 2.02 USD at the time of writing.
These mystery boxes are a great starter point if you want to get involved and experience the NFT mystery box concept.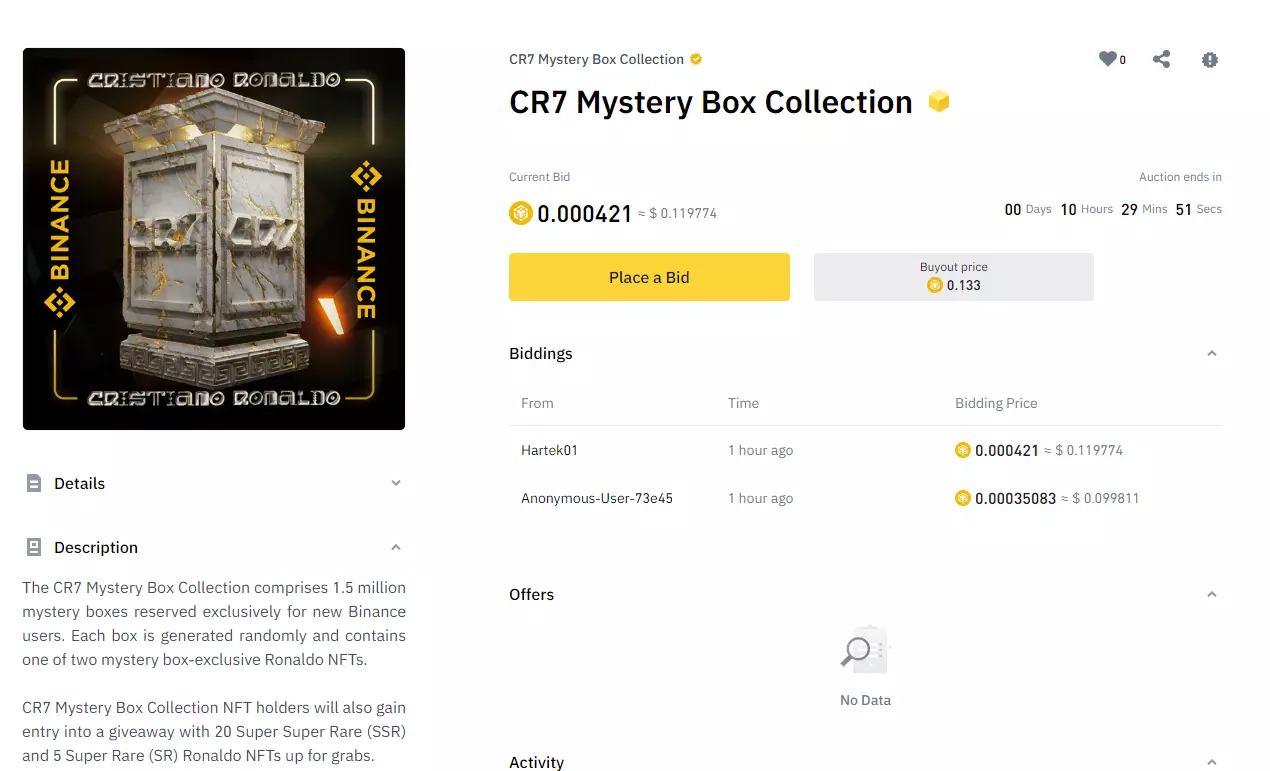 Wizardia mystery boxes
NFTs from most popular NFT mystery boxes have none or close to none utility and usually holds the value as a collectible. After browsing NFT mystery boxes for some time i found mystery box that you can buy for relatively small price and use the NFTs in game that you find inside the box.
Wizardia mystery box example was chosen not only because in these mystery boxes you get NFTs that can be used in the game, in other words they have utility, but also that it is limited edition.
There are few great benefits with Wizardia mysterious boxes. First of all the fixed price and affordable. Second, the loot shows what to expect inside – up to 1 epic very valuable NFT per box that is valued at 777$ and up to 2 rare NFTs valued at 77$/per piece.
Most NFT mystery boxes don't show what is the minimal and maximum value expected from the loot box, but not with Wizardia mystery box.
You can buy an NFT Mystery Box and try their game at Wizardia website.

How to buy an NFT mystery box?
Process of buying a NFT box is very simple. Everything is same as if you would be buying a common NFT. Head to one of the NFT marketplaces, search for mystery box and then complete the purchase.
Congratulations – you now own an NFT mystery box.
How to open NFT mystery box?
Once you have completed the purchase of NFT box it will be added to your inventory.
You are now faced with two options for this unopened box – either to open the box or not to.
If you decide to open it, just click open and you will see all of the contents inside, but before doing that understand that you won't be able to sell the NFT box as you have bought it. You will only be able to sell the individual NFTs from the mystery box.
Should I open my NFT mystery box?
If you are buying NFT mystery boxes to make profit, let me introduce you to a potential strategy. This strategy is based on the idea that limited edition mystery boxes go up in value with time. Although the main important aspect of this strategy to work is that the NFT mystery boxes that you have are limited edition and only specific number of them will ever be released.
So what's the catch here? Well the main catch is that you own NFT mystery box of which more will never be created. That combined with the addictive nature of the boxes and naive nature of humans leads us to believe that with time and with less and less supply of these unopened mystery boxes available the demand of these unopened loot boxes will only increase in time.
There is a reason why we human are willing to pay enormous money for super rare NFT that is one of a kind or has some special features in it's NFT collection. With rarity levels going higher as the supply of specific NFT collection depletes, our willingness to spend good money on these NFTs increases.
If this strategy is not for you, do not worry – let's open this mystery box and see what is inside.
How to sell my NFT mystery box?
Selling your NFT mystery boxes is as simple as buying them. The most important is that you must not open them, or you will only be able to sell individual NFTs instead of selling the whole mystery box.
Go to one of the NFT marketplaces, list your mystery boxes for sale and wait for it to get sold.
Conclusion
NFT loot crates have quickly become a popular trend within the crypto space. The concept is simple: users buy a box for a certain cryptocurrency, and are rewarded with an NFT of random rarity and value.
There's something special about the anticipation that comes from not knowing what you're going to get—it brings out the thrill seeker in everyone.
While it's essential to look out for those who may be trying to take advantage of this new wave of crypto investing, the potential rewards make NFT virtual loot crates a great way for digital asset enthusiasts to explore their luck through gaming-style entertainment.